| | |
| --- | --- |
| | |
My name is Bethany Culp, and I'm an illustrator.
I started this blog for an ongoing character illustration project,
People in Chairs.
It was taking up so much space on my personal blog that I decided to set it up with its own place to grow.
Here's the game:
I'm going to be posting various chairs as I come across them. I want you to describe the person (or character) whom you would envision sitting in the chair. Use your imagination. Be as specific and detailed as possible. Some things to consider: What do they look like? What is their name? What are they wearing? Where do they live? How old are they? Do they have any hobbies? What kind of music do they listen to? What do they love? What do they hate? What is their family like? Where are they from (nationality/ethnicity)? What are their political or religious views? Do they have any pets? What do they do for a living, if anything? Come up with your own questions to answer...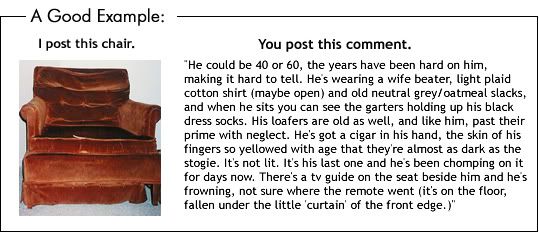 Please feel free to add your own character descriptions the chairs below, or to add detail to other's characters that have already been posted. Anyone is welcome to play, even if you've just stumbled here randomly.
The objective of all of this is to flesh out as real and detailed a character as possible. Using the information you provide, I will be making a series of character illustrations,
People in Chairs
. (The final illustrations will be in my typical dimensional style — sculptural illustrations that I've done for other projects can be seen in my 3D gallery, here:
http://www.polymediastudio.com/3d/gallery.html
) Progress will be posted on this blog as the project develops, so be sure to check back to see your ideas being put to use!
I really appreciate your help with this project. Thank you to everyone who is submitting character ideas!
If you have any questions/comments/suggestions about
People in Chairs
, comment here! (Or you can e-mail me at polymediastudio@gmail.com)
As always, if you would like to see more of my work, check out my web site:
www.polymediastudio.com
I am always available for freelance work.